Syllabus Classes – Ballet, Tap & Modern
Days/Times
Tuesday, Thursday & Saturday: Various Times - See Timetable
Within the schools, we are proud to be part of one of the world leading examination boards- The Imperial Society of Teachers of Dancing.
Following the syllabus in Ballet, Tap, Modern and Contemporary Dance, students and parents can be rest assured that they are being taught at the highest quality in a safe environment.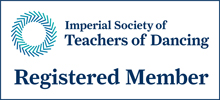 Our Ballet, Tap, Modern and Contemporary classes give students the opportunity to participate in graded examinations in order to gain recognised, accredited dance qualifications. If just for pleasure, or to pursue a career in dance, these classes will suit all ages and abilities.
These traditional genres of dance form the foundation and base for all other types of dance and are the core to good dance training.
Ballet, Contemporary, Modern and Tap help to enhance and promote good posture, strength, stability, flexibility whilst also working on timing and rhythmic quality.
These classes provide excellent all round training in dance. The school holds a 100% pass rate for all examinations taken.